Here at Patriotware Holsters, we are committed to providing the most comfortable and secure retention systems. And because we use only the highest of quality components, our holsters not only look good, they will provide you with years of use.  If you are looking for one of our premade systems, or a complete custom system to hold your firearm and accessories, contact us by emailing patriotwareholsters@gmail.com.
Don't take our word for it...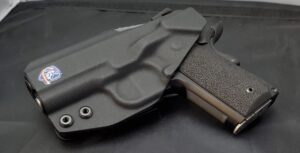 "The best holsters I've had for my 1911! The pistol holds in great, is still easy to draw and comfortable."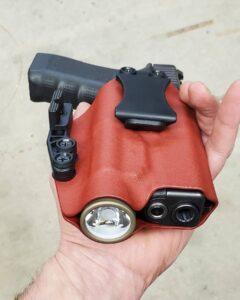 "My wife and I have Patriotware Holsters and the are phenomenal!! They made my wife a special multi-clip version and it came out amazing! I have a Walther PDP which they didn't have a mold for it but had it ready in 2 weeks!!! Not only did they keep their word about 2 weeks they had it done in 10 days and it came out perfect! Thanks again Patriotware Holsters!! Definitely recommend them to anyone needing a holster!"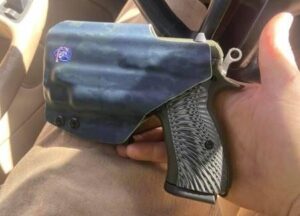 "Had a hard time finding a light bearing IWB holster for my CZ P01, contacted these guys and they were more than happy to make me one. Chose the kydex I wanted and they had it done in 2 days! Great retention, super comfortable and a really smooth sleek finish. I love my new holster, one of the most comfortable ones I've had. Thanks!!"
Today I took a 3 hour basic range class at Blue Hills, Wallingford with Tom's Defensive Firearms.  It was the first time I had used my Patriotware custom Kydex holster and magazine holsters.  Each was attached to a Kore belt.  Outstanding fit for the sidearm and 2 mags.  Two tone colors looked sharp.  The functionality and fit to the body were perfect for the Walther PDP compact.  Check Patriotware for all of your sidearm wear.